2016 Honda Cb on 2040-motos
US $5700
Location:
East Hanover, New Jersey, United States
Honda CB tech info
Engine Size (cc):286
For Sale By:Dealer
Honda CB description
The best part of any motorcycle has never been the bells and whistles. It's been the freedom and the exhilaration that comes with riding. And in fact, plenty of riders feel that less is more, that a simple bike done right gives you the purest riding experience of all.
That's one of the reasons we built the CB300F. It's a great machine, loaded with features, but in a lighter, smaller, simpler package. It's a great choice for the urban rider, as a first bike, or really for anyone who wants a great motorcycle.
Like our CBR300R, the CB300F uses a totally up-to-date single-cylinder engine. The fuel injection system and electric start make it convenient, but the best feature of all may be its combination of enthusiastic power delivery along with awesome fuel efficiency. Practical meets performance—it's not an either/or proposition with the CB300F—you get to have your cake and eat it too. And with its low price, you'll be able to afford lots of cake.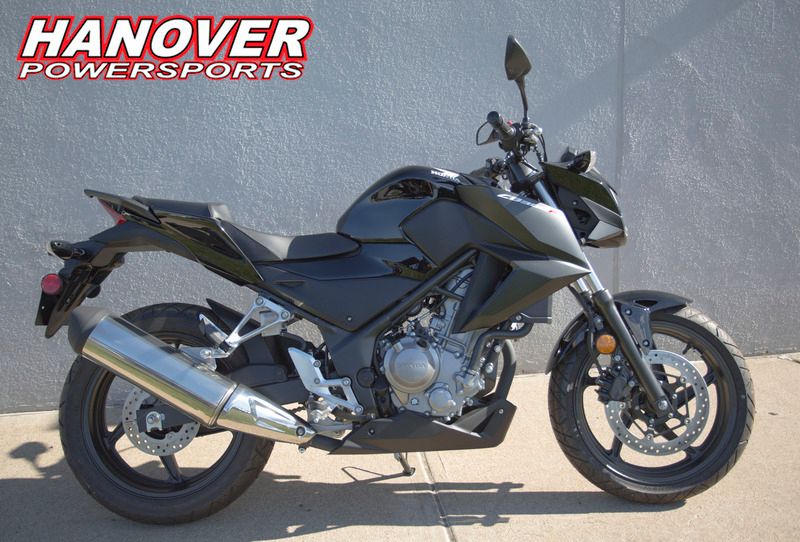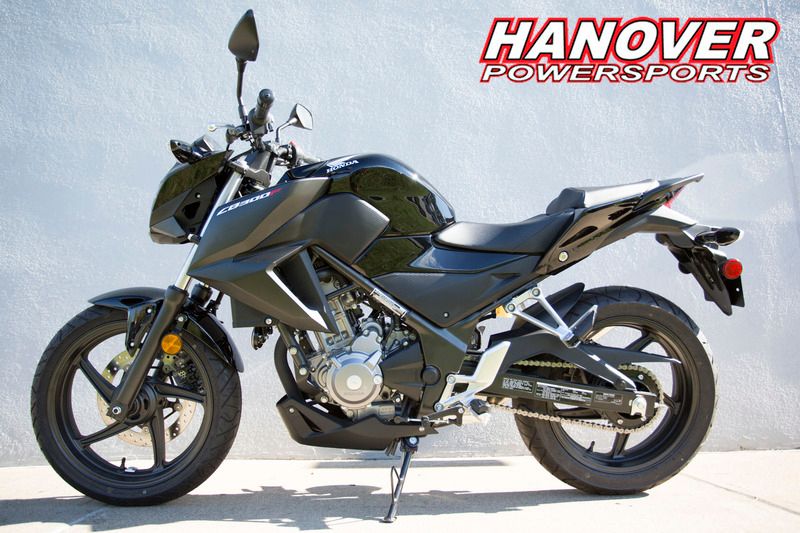 Light is Right. And So is Narrow.
Thanks to it's single–cylinder engine configuration, the CB300F is super narrow. Combine that with its low 30.7–inch seat height and light 348–pound curb weight, and you have the recipe for a bike that offers excellent maneuverability in the city. Plus, putting your feet down in parking lots or at stoplights is a lot easier.
Super Single
Hondas are famous for their engines, and we've given the CB300F a great one. First, the facts: it's a single–cylinder with fuel injection, double–overhead cams and a counterbalancer. But here's the genius part: Because it's a single, it offers the kind of torque and midrange power that's well suited for all levels of riders.
A Winner at the Fuel Pump, too.
The CB300F rocks when it comes time to fill up. With a fuel economy estimate of 78 MPG,* you're more likely to be laughing at high gas prices. The CB300F can carry a passenger and is freeway legal. Get all the versatility you need.
*Fuel economy estimates are based on EPA exhaust emission measurement test procedures and are intended for comparison purposes only. Your actual mileage will vary depending on how you ride, how you maintain your vehicle, weather, road conditions; tire pressure, installation of accessories, cargo, rider and passenger weight, and other factors.
PLEASE CALL WITH ANY QUESTIONS BEFORE BIDDING
973-428-1735
Terms of Sale
No Freight - No Prep - $125 Doc Fee
7% Sales Tax for New Jersey Residents
DMV Fees may apply to registered vehicles
Item is for sale in multiple listings, auction may be canceled at any time
We will not cancel an auction with bids
All Sales are FINAL
No Returns
Shipping Information
Local Pick up only, we do not ship motor vehicles.
Honda CB for Sale
Moto blog
Wed, 23 Jul 2014
"Built for Speed – Race Inspired Motorcycles and Art" is the title of Michael Lichter's 14th annual "Motorcycles as Art" exhibition in Sturgis this August, which for the second year in a row, will be jointly curated by Michael and Paul d'Orleans of the Vintagent. 'Built for Speed' is sure to impress visitors with a beautiful and thought-provoking display of motorcycles and related art, the race-inspired theme making connections between motorcycle racing and custom bike designs inspired by racers. Each custom bike in 'Built for Speed' reflects a branch of racing; Speedway, Flat Track, Drag Racing, Board Track,  Grand Prix, Land Speed Record, and will be displayed beside the racing machines suggesting the origins of each style.
Tue, 20 Aug 2013
MotoGP team Cardion AB announced it plans to field rider Karel Abraham in the 2014 Championship on Honda's new RC213V-based production racer. Cardion AB becomes the second MotoGP team to select Honda's production racer. The Gresini Racing team will also use the Honda machine, which is no surprise considering the team's history with Honda prototypes.
Wed, 08 Jan 2014
Stage 4 of the 2014 Dakar saw Juan Pedrero take his maiden victory aboard a Sherco SR 450 Rally. Although not in contention for the overall, Pedrero showed he has outgrown his previous role as Marc Coma's lieutenant at KTM by bringing his Sherco across the finish line 3:10 faster than third place Coma and 29 seconds faster than second place finisher Francisco Lopez. Coma's performance in today's stage moved him to only 3:10 behind overall leader Joan Barreda.
| | | |
| --- | --- | --- |
| Honda CB by State | Honda CB by City | Honda CB by Color |