The New Special Edition Clarus Q-link Metallic Gray Srt3 Qlink Pendant on 2040-motos
US $99.95
Year:
0
Mileage:0
Location:
Bismarck, North Dakota, United States
Qlink SRT-3 description

This is a NEW Special Edition Clarus Q-LINK METALLIC GRAY SRT3 QLink Pendant. Our QLINKS come with a Money-Back Guarantee and Warranty. This is the latest model and they are more Powerful than the previous Classic version.Sleek and chic, with a dual-tone design, this beveled-edge triangle has two distinct sides, each making a unique statement. It can be worn by both men and women as a signature piece, dressed up or down. Designed by internationally acclaimed designer Neville Brody and powered by our next-generation SRT 3, the result is leading-edge attitude and super-charged power. No better way to protect yourself from EMF. If you have any questions regarding this item please give us a call (800)355-2956.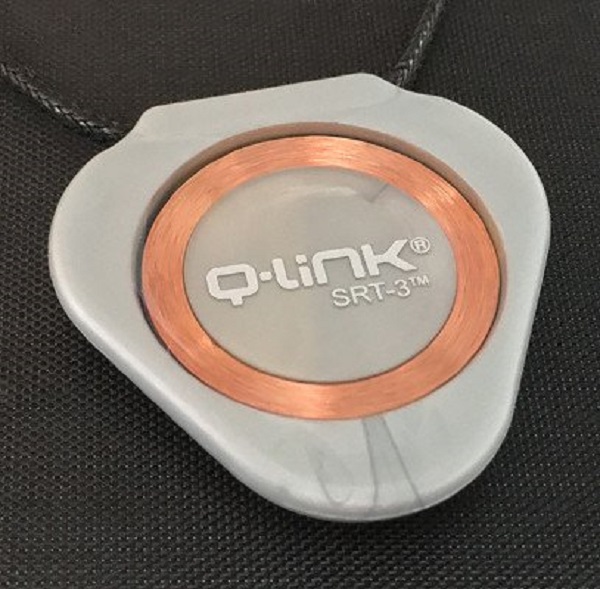 Q-Link is the most advanced personal energy system available today. A quarter century of frontier research has given birth to the Q-Link, a sleek pendant that tunes your being for optimal living: More energy, less stress, greater focus, and enhanced well being. No matter what you do, the Q-Link simply helps you feel better and gives you a creative edge by helping harmonizing your mind and body. In 1994, the National Institutes of Health in the United States adopted a new term – biofield – to describe a growing body of research showing a subtle field that permeates and extends beyond the physical body. The biofield is something you've probably already noticed: a vital force that animates our bodies and powers our daily lives. People who wear a Q-Link report having clearer thinking, increased awareness, calmness, better sleep, enhanced mental focus, stamina, vitality and more.

When our biofield is out of balance, we're out of balance. Disease, fatigue, and apathy all reflect a compromised biofield. When something improves our biofield, such as the Q-Link, it enhances our sense of well-being. Every day, our biofields are negatively impacted by flickering computer monitors, irate bosses, cell phones, emotional stress, tabloid television, and traffic jams. We are literally bombarded with frequencies that wear us down. That's why it is essential to recharge. Q-Link products tune up your biofield through a resonant effect that harmonizes your energy and helps you to navigate smoothly through a stressful world. Think of them like tuning forks that remind your biofield of its optimal functioning state. Worldly stress causes the biofield to become more chaotic and incoherent. The Q-Link reverses this process, ensuring efficiency, harmony, and balance.





The Q-Link's fundamental technology can be understood by imagining a tuning fork that vibrates at a certain pitch. Similarly, the Q-Link's Sympathetic Resonance Technology (SRT) is tuned to optimize the human energy system through resonance. As it interacts with your biofield, it leads to a rebalancing and restoration according to your individual needs.

What are the benefits of Q-Link?
- The Q-Link strengthens your resistance to the effects of stress
- Increases energy and enhances mental performance especially under stress
- Strengthens immunities to cell phones, computers, and other Electromagnetic Fields (EMF)

What is a Q-Link?
The Q-Link is a stylish pendant that helps your biofield function at its optimum level, which strengthens your resilience and resistance to the effects of stress.

What's new about the Q-Link?
The new Q-Link is chic, with a sleek, white dual-tone design. The one and one-half inch triangle with beveled edges has two distinct sides, each making a unique statement. It can be worn by both men and women and be worn all the time—as a signature piece, dressed up or down. The new pendant was designed by internationally acclaimed designer Neville Brody.

Are there any enhancements to the technology?
The next generation pendant contains the latest enhancements to the SRT technology, SRT 3, which enables the device to more efficiently resonate life-supporting frequencies in the biofield, providing a more powerful response to stressors. Most people will realize heightened energy, notice a quicker effect and have more rapid return to centered emotional balance.

Does it have a power source or electronic components?
The Q-Link contains no power source of its own and works like a tuning fork, resonating with and strengthening the life-enhancing information already present within the biofield.

How long do I have to wear it before I notice the benefits?
Tests have shown that the effects are instant, but individual experience will vary. For optimal results, we highly recommend that you wear your Q-Link all the time.


Balkowitsch Enterprises, Inc. has sold over 750,000 quality items online since 1998. International shipping is available on all items and we ship multiple items together to save our customers money. Every item that we sell comes with our 10-Day Money Back Guarantee. We accept Visa, Mastercard, Discover, American Express and Paypal as forms of payment. If you have any questions please call us at (800)355-2956 U.S. Toll Free or (701)223-9936 International. We are available to assist you 24 hours a day, 7 days a week, 365 days a year.

CUSTOMER SATISFACTION / POSITIVE FEEDBACK ONLY PLEASE: Our company strives for 100% customer satisfaction. If you have any issues with your order, please contact us and give us the opportunity to make any issues right with you. We left you Positive Feedback immediately upon receipt of your Paypal payment and ask that you give us only POSITIVE FEEDBACK. PLEASE do not leave us Neutral or Negative Feedback and please allow us the opportunity to correct any issues. You have our word that we will do everything we can for you. You can reach our customer service department via email through the eBay system anytime. We always respond quickly and thank you again for your business.

EXPECTED DELIVERY TIMEFRAMES: We do our best to ship all products immediately. Normal ground shipping inside the United States takes 7-10 BUSINESS days (14 Calendar Days) to arrive. The Estimated Delivery dates shown on eBay are Estimates only and are NOT guaranteed delivery dates. Shipping outside of the United States can take 3-4 weeks to arrive and in some cases longer, depending on customs and clearance delays. Please understand that we have no control over delivery times abroad since a foreign customs department can delay delivery of an item for an unpredictable amount of time. Most of our international packages are shipped via USPS Airmail to save you on shippng costs. This form of shipping has Delivery Confirmation numbers only and is not trackable. If you want to upgrade your international shipping to trackable Fedex or UPS please contact us before you purchase to get an accurate quote for the more expensive trackable method.

OUTSIDE CONTINENTAL UNITED STATES: The shipping charges quoted in all of our listings are for the Continental United States ONLY! If you are outside of the Continental United States, please contact us before purchasing to get a correct shipping quote to ship to your location. Examples of areas outside of the Continental United States are Hawaii, Alaska, Guam, Puerto Rico, Virgin Islands, all APO/FPO addresses, and any other United States Territories.

INTERNATIONAL BUYERS: Most of our manufacturers refuse to ship outside of the United States so in some cases your item will ship to our international warehouse first and then onto you. It may take a 7-10 days until your item leaves our international warehouse in route to your location. Import duties, taxes, and charges are not included in the item price or shipping cost. These charges are the buyer's responsibility. Please check with your country's customs office to determine what these additional costs will be prior to bidding or buying. Customs fees are normally charged by the shipping company or collected when you pick the item up. These fees are not additional shipping charges.
Qlink SRT-3 for Sale
Moto blog
Thu, 20 Aug 2009 00:00:00 -0700
Scooters have exploded in major cities all over North America.  I remember seeing them long long ago and thinking "that's adorable". Well no more! Scooters are the "new cool" for downtown workers.  I see business men and women jetting around on these things everyday and I can't help but be a little envious (as I walk to the congested subway station).
Fri, 17 Jul 2009 00:00:00 -0700
What is the cheapest scooter? We'll show you! Cheap doesn't mean bad, in fact due to tremendous competition in the 2009 market scooters are better and more affordable than ever!
Thu, 09 Jul 2009 00:00:00 -0700
Are you stuck on the idea of getting a sportbike but feeling a little light in the money clip? Luckily for you there are lots of price conscious solutions on the sportbike market. This list will give you a good idea about what kind of bike you can get for as little money as possible.